Garrett Connect – The Turbo Mechanic's Most Valuable Companion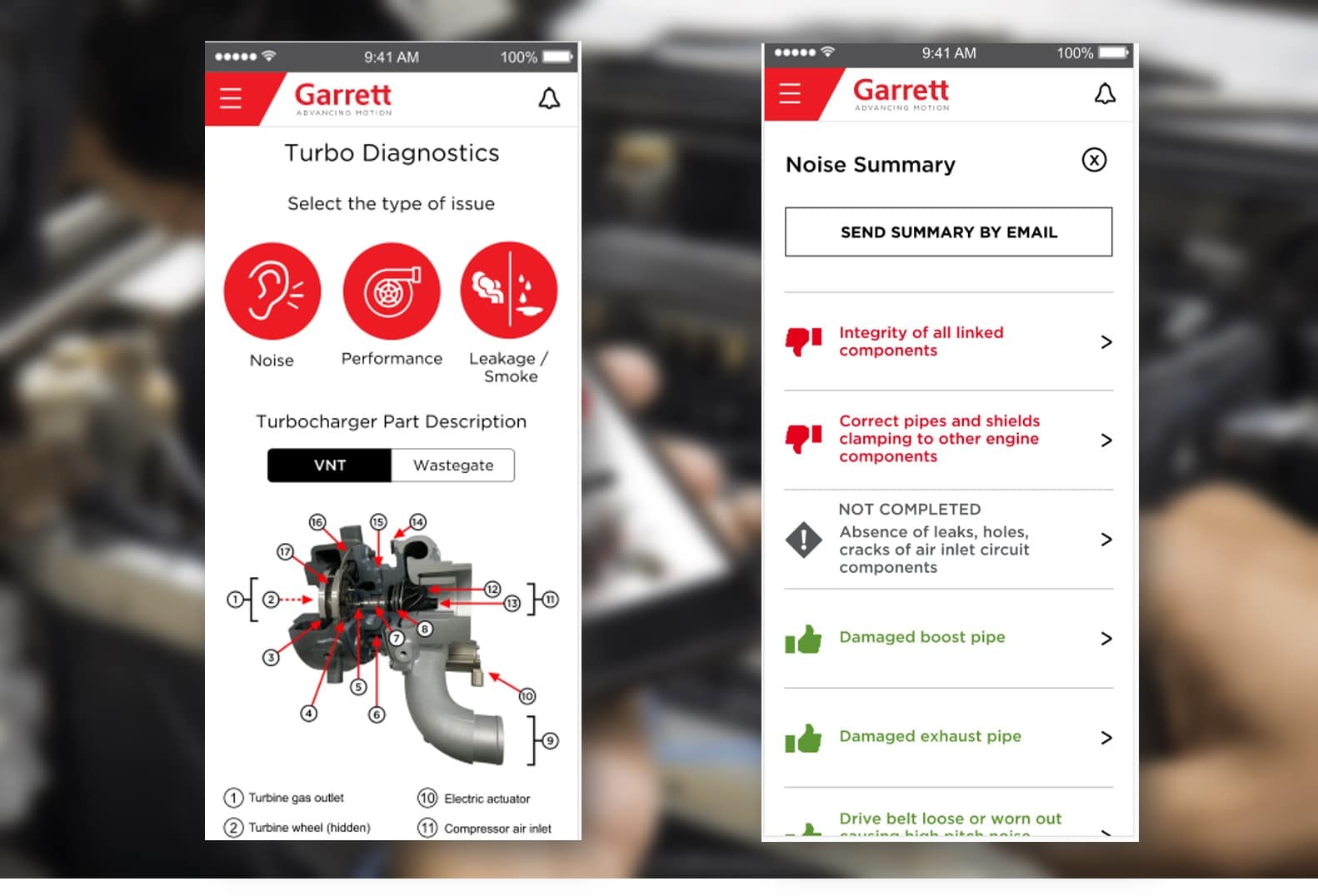 Is there a problem with my car's turbo?
It's a simple question, but with increasingly sophisticated technology under the hood, providing a quick answer is not easy – even for the most experienced garage technician.
Now, mechanics have a new tool in their armory to dive deep into turbo architecture to investigate symptoms and resolve faults quickly.
Garrett Motion's new Garrett Connect mobile app places an intuitive step-by-step diagnostics tool in the hands of technicians, enabling them to launch a smart checklist of fault symptoms while working simultaneously on the customer's vehicle. This easy and timely access to an expert diagnostic pathway via a mobile device enables mechanics to progressively, methodically and conveniently home in on the source of any problem.
"We have designed Garrett Connect to be the turbo technician's most valued workshop technology companion," said Jeroen Paesen, Digital and New Business Leader for Aftermarket. "In one holistic application, we are making decades of Garrett engineering expertise and experience instantly available to mechanics – making it easier than ever before for them to identify whether a turbo fault exists and what to do to the resolve the problem.
"It offers convenience and class-leading support at the tap of a mobile touchscreen – providing garages with a smart tool for diagnostics and fault resolution so they can serve their customers better."
The Turbo Diagnostics functionality starts with routine checks to identify likely problem areas, taking account of customer feedback, vehicle repair history and electronic control unit (ECU) error codes. From there, the app guides mechanics to check for leaks, damage or clogging linked to potential issues around turbocharger unit tightening, alignment and integrity. For example, heavy external pollution can impact turbo kinematics.
Where there is no obvious failure, the app offers mechanics three symptomatic routes to fault finding – based on 'noise', 'leakage/smoke' or 'performance' – along with a visual parts reference. In the case of 'noise', this process includes a series of driven tests to replicate the problem, along with recommended checks of other engine and vehicle components.
For each pathway, the app uses a smart checklist to identify potential faults, with technicians clicking 'ok' or 'not ok' in a diagnostics progress tracker. At each stage, the diagnostic trail can be saved for future reference.
Where a fault is found, a click on 'not ok' will reveal a recommended resolution, whether that's a repair procedure, a new component or a replacement turbo.
Where a replacement part is needed, the app connects directly from the symptom page to the Garrett catalog, where mechanics can input model details or scan the turbo nameplate to access a portfolio of around 6,000 Aftermarket parts covering variable geometry, wastegate TwoStage boosting systems. From here, the app can connect to the nearest distributor, with an option to call or email directly from the mobile device.
In addition to Turbo Diagnostics, Garrett Connect also offers mechanics access to accredited multi-level turbo training modules, a turbo matching service, and a sign-up for automatic updates on Garrett products, news articles and industry events.
Learn more about Garrett Connect mobile app at garrettmotion.com/ get-garrett-app.
Garrett Connect is available for iOS and Android devices and can be downloaded via the Apple App Store, Google Play or Huawei App Gallery.